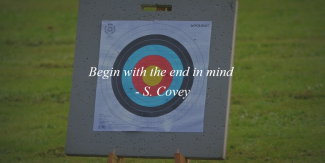 Over the past 15 years that I have been professionally helping people with their financial planning, I have helped many clients along their path towards their goal of retirement and other significant financially related goals. 
In today's society, the amount of distractions and noise from news outlets, social media, and well-meaning family, friends, and colleagues is at a screeching point.  Finding a way to step back, work out a viable path to your financial goals, then stay focused and not become distracted or sidetracked from those goals can feel like a nearly impossible mission. 
I can't stress enough how staying focused on the goal, having a plan in place to outline the path to that goal, and then not becoming distracted from your planned goal are all key to succeeding and meeting your goal. 
If you're seeking a path to retirement (or other large financial goal), but still have 10 or so more years left to reach your goal, here are a few things to strongly consider in order to help you get focused and stay focused to reach your goal.  
When was the last time that you took a hard, detailed look at your living expenses?  Do you have a system in place to monitor them?  Do you know where every dollar is going?  After all, once you spend a dollar, you can hopefully make more to replace it, but you'll never see that dollar you spent ever again.  It is gone.
When was the last time that you seriously and carefully looked at your debt?  Do you have a system in place for knocking out your debt?  Do you have sufficient emergency savings in place to help keep future debt from occurring?  Time and time again, I have seen debt unnecessarily take on far too much of a role in financial lives.
Have you analyzed the cost of future healthcare needs?  In 2015, the Employee Benefit Research Institute reported that the average 65 year old married couple would need about $213,000 in savings to have at least a 75% chance of meeting their insurance premiums and out of pocket health care costs in their later years.  Do you have a plan for this?
What are you doing to manage your tax situation?  What is your plan to handle taxes in the future?  What is your strategy for living off of your portfolio?  If your ultimate goal is not retirement, but perhaps a vacation home, what is the most efficient way to tap your portfolio?
The points I've just encouraged you to consider cover several different, very broad areas.  Your individual situation will likely have other factors involved and all these things combined can seem very daunting. 
Helping people sort through all these factors, make a solid plan, then stick to that plan despite all the distractions is a challenge I enjoy and one of the main reasons I chose this profession. 
I love challenging situations and helping others through the power of financial planning.  Please reach out to me and allow me to help reach your goals.
Securities and advisory services offered through The Strategic Financial Alliance, Inc. (SFA), member FINRA, SIPC.  Blaine Bowers is a Registered Representative and an Investment Adviser Representative of SFA which is otherwise unaffiliated with Bowers Private Wealth Management.  Supervising office 678.954.4000.  The SFA does not give tax or legal advice.