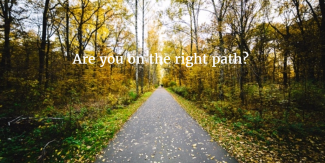 Are You on the Right Path?
"A man who does not think and plan long ahead will find trouble right at his door."  - Confucius
Are you on the right path?  Or even a path at all?  If you already work with a CFP®, or better yet Bowers Private Wealth Management, and have a basic plan in place….great!  If not, what is holding you back?
As a part of National Retirement Planning week (April 11th – 15th), I wanted to call attention to a few alarming statistics.
According to recent Congressional testimony, 45 percent of Americans have saved exactly nothing towards retirement. 
Overall, the average working household has little to nothing saved for retirement. The median retirement account balance is only $3,000 for working-age households and only $12,000 for households approaching retirement. In two-thirds of working households with earners between ages 55 and 64 years, at least one earner has saved less than one year's income for retirement.
80% of those between ages 30 and 54 believe that they will not have enough put away for retirement.  I can't help but wonder how many of these people even know what they would need?  I am convinced that unfortunately most folks spend more time planning their next vacation or car purchase than they ever do planning for their future.
Another problem that gets added to the retirement conundrum is this number - $220,000.  That's how much the average 65-year-old couple can expect to part with over the next 20 years in out-of-pocket costs for health care, thanks to not having any retirement savings to pick up the tab.
Beyond the planning necessary to achieve true financial freedom and independence (successful retirement included), additional planning is needed to attack what could be your largest ongoing expense; taxes.  What do you have in place to deal with this?  I have written extensively on this in the past and really enjoy placing some serious focus on this when I help others.
I believe that everyone should have a plan in place.  It doesn't have to be complex, rather, it should be something designed for you individually that you can handle and makes sense to you.
If you don't have any help, or anything in place currently other than random accounts (with no unified plan), please do reach out to me.  It's easy. 
Securities and advisory services offered through The Strategic Financial Alliance, Inc. (SFA), member FINRA, SIPC.  Blaine Bowers is a Registered Representative and an Investment Adviser Representative of SFA which is otherwise unaffiliated with Bowers Private Wealth Management.  Supervising office 678.954.4000.  Research information used in this article was obtained from Broadridge Investor Communication Solutions, Inc., The US Census Bureau and Benefitspro.com