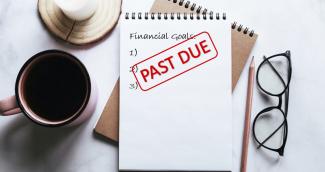 How to Overcome Procrastination
As a financial planner, I have an obsession with helping my clients to get things done.  Sometimes these are big ticket items, and other times, they are smaller items that lead to very big things over time. 
In a recent newsletter, I wrote about how 'noisy' life can be.  We are getting hit with so many different things, every day, and seemingly all at once. 
Often enough, this can lead to not making, or flat out avoiding, key decisions that need to be made regularly in order to keep moving forward with your finances. 
In other words, procrastination can hit you in different ways that can end up having rather severe consequences over time. 
At Bowers Private Wealth Management (BPWM), we pride ourselves in holding our clients' feet to the fire.  We help them to do the tasks that need to be done, even though some of these key planning items are not always at the top of their own list. 
Have you ever gotten out of bed and said to yourself, "Wow, I feel great!  Today I am going to get my Estate Planning done!" or "I just finished my taxes yesterday, and I am so excited that I am going to go ahead and get my tax planning done for next year!" 
Probably not….
At BPWM, we have a very involved planning process that we use to help our clients set clear goals.  We work very hard to break these goals down into bite-sized chunks.  This leads our clients to have a better ability to eliminate outside distractions (media, thoughts from friends/relatives, water-cooler talk etc.) and avoiding other things that can really get you sidetracked. 
Don't get me wrong, no one is perfect, but with some straightforward guidance, you can accomplish much more than you likely ever thought to be possible. 
So, I ask you….  What is your most challenging finance-related task? 
What have you been putting off? 
What financial behaviors would you like to change? 
What would you like to accomplish?
Start where you are.  Reach out to us and perhaps we can find a way to help you. 
Afterall, the best way to get something done is to begin.
"You may delay, but time will not." – Benjamin Franklin