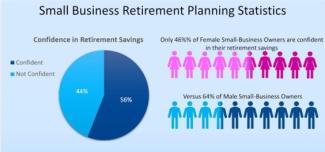 Empowering Small-Business Owners: Building Retirement and Financial Confidence
Recent surveys from SCORE and ShareBuilder 401K suggest that 40%+ of small-business owners lack the confidence that they'll be able to retire or diversify from their business. Many don't even offer retirement plans for their employees, making it more unlikely that they'd be able to retire as well!
As a small business ourselves, we find these figures to be completely unacceptable! That's why we've made this one of our primary areas of focus. We help small-business owners (and their employees) organize their financial lives and develop actionable steps forward to help them achieve their objectives.
Whether you're a solopreneur, or you have employees, we can help you establish a low-cost retirement plan, and provide continual guidance and education to help you achieve your future objectives and overcome what's holding you back.
With our guidance and support, many of the clients we serve are now confident in their ability to retire and achieve other financial goals, with others steadily making continued progress.
We believe that small businesses need to stick together and support each other on this ever-evolving path to success. With our tax-focused comprehensive approach to financial planning, we focus on the business owner(s), the business itself, and the employees to provide a cohesive plan geared toward achieving the highest probability of success.
If you're a small-business owner, or know someone who is, please don't be (or let them be), one of these statistics.
You've spent too much time, money, and effort building your business to not enjoy the fruits of your labor.
Please reach out to us at clientservices@bowerspwm.com or call our office at 984-308-1908 to see how we can help guide you down the path to success. Visit BowersPWM.com to learn more about our firm and how we help. You can also follow us on Facebook, LinkedIn, Instagram, and Twitter to receive updates on our educational content.
Don't keep us a secret, share us with your friends and family!
Are you already a client with us? If you are, and you find these statistics as appalling as we do, please share your experience with us with others. We can only help those who reach out to us, and we have a long way to go to increase the overall confidence level of small-business owners.