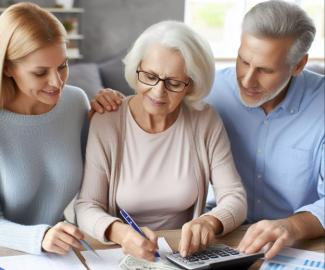 Tips to Care for Aging Parents While Balancing Your Family's Needs
As a financial planning firm, we have helped our clients work through a variety of challenging issues over the years.  One of the biggest, and most complex challenges has been caring for aging parents.
Caring for aging parents while still tending to the needs of your own family is a challenge many adults face today, and it's expected that the trend will continue. According to the Pew Research Center's survey, 23% of adult Americans, including 54% of those in their 40's, belong to the 'sandwich generation'. While this situation can obviously be emotionally, physically, and financially draining, there are some steps you can take to help make the process more manageable. The trick is to start as early as possible before issues arise.
Open Communication
Open and honest communication with your parents is crucial. Make a list of any assets (bank accounts, investments, insurance policies, collectibles, etc.) and their debts and regular payments. Discuss their wishes in case of temporary or permanent incapacity, or after they're passing. Work together to ensure those wishes are financially feasible, and plan out how to fund them. If you have siblings, involve them in these conversations to ensure everyone is on the same page. While it's impossible to plan for every scenario, try to get a general idea of who will handle what in the more common or likely scenarios.
Essential Estate Planning
If they don't already have an estate plan in place, it's highly encouraged to get this done while they're still capable. If they already have a plan, it's a good idea to review it to ensure it aligns with their current needs. The complexity of the plan will depend on their unique situation, so it's wise to seek advice from an estate planning attorney. Whether they need a basic will or a complex trust, it's important to account for all assets, and to appoint durable and healthcare power of attorney representatives.
It's good practice to go through and update all their accounts afterward. Make sure that the correct accounts are titled in the name of the trust if applicable. Regardless of a trust, verify that beneficiaries and transfer on deaths (TODs) match the estate planning documents to make for a smoother transition.
Gain Account Access
If you're the executor of the estate or the durable power of attorney if your parents become incapacitated, consider becoming an authorized signer on their financial accounts while they're still competent. This will facilitate the transition when you need to access the account and will help minimize your out-of-pocket expenses during this period.
Government and Insurance Considerations
Familiarize yourself with the benefits offered by Social Security and Medicare to determine if they will be sufficient for your parents' needs. Due to the intricacies of these programs, it's advisable to consult with a professional. Depending on your family's medical history and your parents' health, long-term care and/or disability insurance may be worth pursuing. It's also worth exploring any financial assistance programs to see if your parents may qualify.
Intentional Budgeting
It's essential to ensure that both your parents' budget and your personal budget are up to date and realistic. Your parents should create separate accounts for each stage of life, such as short-term, mid to long-term, and long-term care/healthcare needs. This can help determine how financially secure they are, and if they're likely to require financial assistance. This is where your budget comes into play. It's important to know how much help you can provide without overextending yourself. It's recommended to seek help from family, friends, and assistance programs to prevent burnout and minimize the strain on your personal relationships and finances. Your parents wouldn't want you to suffer on their behalf, and doing so will likely cause a similar situation for you and your children.
A Well-Structured and Collaborative Schedule
Between work, family life, parental care, and self-care, you've got a lot going on. Creating a detailed schedule can help ensure the important tasks are covered. Partner with other family members and friends to share responsibilities and combine schedules. Knowing others' schedules can help determine who to contact in case of an emergency. It's imperative to allocate time for family, meals, exercise, and rest to prevent neglecting these vital aspects.
Implement Your Knowledge
Throughout this journey, you'll learn some valuable lessons. Take notes on what to avoid and what to pursue. While assisting and caring for your parents, keep your own future in mind and try to be proactive about it. Implement as many of these steps as possible to help set yourself up for success, and help you and your children avoid unnecessary stress.
Caring for aging parents can be a very rewarding yet challenging experience. While giving back to those who raised you is a noble endeavor, it's important to know your limits. Take the time to have these honest conversations with parents and other family members before it's too late. Being proactive in preparing for your future will benefit your parents, your family, and your future self. You will all be happy you did.