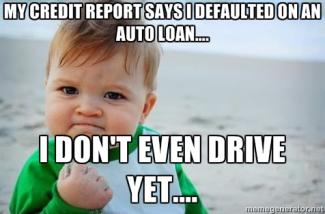 When helping clients with their wealth management needs, Bowers Private Wealth Management takes many extra steps to protect against the many challenges to cyber security and identity theft threats that are out there these days.  I also want all of my clients to be armed and dangerous when it comes to protecting what they have earned.
As a part of National Consumer Protection Week (March 6-12, 2016), I wanted to pass along some solid information that I think will be of help to you. 
While you may never be able to totally stop someone from stealing your identity, you can certainly take some steps to make it much harder to become a victim.
Have you ever checked yourself out? 
Be sure to get your credit report each year for free.  You can do this by visiting www.annualcreditreport.com.  If you see anything that isn't accurate, or just downright alarming, be sure to take care of this as soon as possible.  I would recommend contacting Equifax, Experian and TransUnion to knock this out.
Keep solid records at home (in a safe place of course).  Write down your various account numbers, expiration dates and telephone numbers of the various customer service departments. 
I would also recommend keeping your receipts from any purchases (when using a credit card) and checking against your monthly statements for accuracy.  If you're a current client of mine, you've already been encouraged to keep a budget to begin with….so this really shouldn't be a problem.  As I always say, budgets have tremendous benefits that you don't always see when you're down in the trenches working on them.
It is also helpful to minimize your exposure overall. 
Make sure that your laptop (or other devices) are encrypted…..especially if you have stored personal financial info on the device. 
Check your device regularly for malware. 
Also, take care of the obvious things….like not opening fishy emails from people you don't know.
Speaking of people you don't know, to keep them from contacting you here are three quick tips:
Sign up for the National Do not Call List at www.donotcall.gov
Remove your name from email and mailing lists by registering with the Direct Marketing Association at www.dmachoice.org
You can also remove your name from the three national consumer reporting agencies by registering at www.optoutprescreen.com
I hope you've found this helpful and of course, if you know anyone else that this information can help, please pass it along. 
Securities and advisory services offered through The Strategic Financial Alliance, Inc. (SFA), member FINRA, SIPC.  Blaine Bowers is a Registered Representative and an Investment Adviser Representative of SFA which is otherwise unaffiliated with Bowers Private Wealth Management.  Supervising office 678.954.4000.  Research information used in this article was obtained from Broadridge Investor Communication Solutions, Inc.