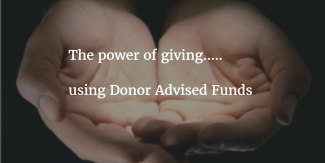 The Power of Giving.....using Donor Advised Funds
I've mentioned on a number of occasions how much I enjoy the work I do and that one of my favorite challenges is helping others minimize the tax bill on their hard earned assets to allow for optimal  financial growth, but even more critically, to allow my clients to maximize their assets to impact causes and concerns of importance to them.   
It is particularly rewarding for me to see the great impact my profession can have on others when these assets my clients have worked so hard for are able to be further amplified by having an organized approach to Charitable Planning. 
There are a number of ways to go about best organizing charitable planning and the right fit depends upon your individual situation.  If you're an accredited investor, you'll find that there are some potentially powerful strategies that you can employ.  But if you're not an accredited investor, no worries at all; there are options available for you to make a serious impact as well.
Many people can make use of a Donor Advised Fund (or DAF), which is a great way for you to give impactful gifts over a long period of time. 
When you make a contribution to the DAF, it may be tax deductible in that tax year. 
Usually there is a required minimum that you must reach in order to use DAF.  However, your contributions can consist of cash, appreciated securities and other types of assets. 
The donor (or designee) can make recommendations to the fund as to how often (and how much) grants from the fund can be made. 
The donor can also make suggestions on how the contributions can be invested.
I hope this has helped you better understand some of the basics of how a Donor Advised Fund works for you and for the causes important to you.   As always, please contact me with any questions you have about organizing your charitable planning or anything else that you have on your mind.
Securities and advisory services offered through The Strategic Financial Alliance, Inc. (SFA), member FINRA, SIPC.  Blaine Bowers is a Registered Representative and an Investment Adviser Representative of SFA which is otherwise unaffiliated with Bowers Private Wealth Management.  Supervising office 678.954.4000.  Research information used in this article was obtained from Broadridge Investor Communication Solutions, Inc.