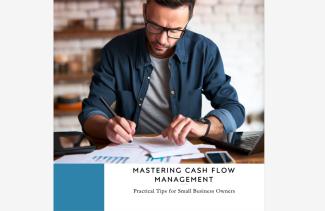 Mastering Cash Flow Management: A Key to Small Business Success
Mastering Cash Flow Management: A Key to Small Business Success
As a financial planner that specializes in working with small-business owners, I've often witnessed the struggle with cash flow management that can weigh down small businesses.
What is Cash Flow Management?
Cash flow management is the art of monitoring and controlling the movement of money into and out of your business accounts or personal accounts. It involves tracking expenses, income, managing accounts payable and receivable, and making strategic decisions regarding cash allocation.
Why is Cash Flow Management Crucial?
Mastering your cash flow is vital for the longevity and success of your business (and personal finances).
Timely bill payments:

Prompt bill payments safeguard your business's reputation and build strong relationships with vendors, suppliers, and creditors.  This also helps you to avoid costly late fees, take advantage of early-payment discounts, and build a stronger credit score to reduce future financing costs.
Fuel growth and expansion

: With strong control of your financial inflows and outflows, you'll be able to unleash the potential of your business and seize growth opportunities, remain competitive, and plan for unexpected emergencies.  
Minimize financial stress:

Gain peace of mind, avoid surprises and alleviate financial stress by understanding your cash flow and general pattern of account balance fluctuations. With this deeper knowledge of the rhythms of your business's cash flow, you can focus your energy on growing your business.
Informed decision-making:

When you recognize and understand your financial patterns, you'll be able to use insightful cash flow management to make informed decisions, wisely allocate resources, achieve long-term success, and empower yourself.
Effective Cash Flow Management Tips:
Practical tips to conquer cash flow management and steer your business (or personal finances) towards greater success:
Craft a cash flow forecast:

Unlock foresight by reviewing past-month figures and projecting your cash inflows and outflows over a specific period. Anticipate potential shortfalls and strategize to ensure you have the resources to meet your financial commitments.
Monitor accounts receivable:

Boost your cash flow and watch your financial health soar by staying vigilant with accounts receivable. Create an automated system to keep track of outstanding payments and follow up diligently to reduce the risk of late payments.
Control expenses:

Be a savvy spender by scrutinizing expenses and seeking opportunities to reduce costs by renegotiating contracts, exploring cost-effective suppliers, and eliminating unnecessary expenditures. Efficient expense management boosts your cash flow and bottom line.
Streamline inventory management:

Achieve the perfect balance between inventory and cash flow. Manage your inventory effectively to avoid excessive stock that hampers your cash flow. Strike the sweet spot to meet customer demand and maximize profitability. Use your business's demand cycle and forecast to adjust your inventory levels accordingly.
Prepare for the unexpected:

Shield your business from unforeseen expenses by establishing emergency cash reserves (in a high-yield account) or securing a line of credit. You can confidently navigate unexpected financial challenges and allow room to capitalize on unforeseen opportunities when you have planned ahead.
When you recognize the significance of cash flow monitoring and implement these expert tips, you'll be able to unlock the potential of your business (or personal finances) and navigate the financial landscape with ease.  
Remember, cash flow management is an ongoing process, so regularly monitor and adjust your strategy.
Embrace financial control and position your business (and yourself) for long-term success when you master cash flow management.
Working with a financial planner can help you better understand how to implement these cash flow management tips and provide you with the accountability you need to stay on top of your goals and focus on the long game.
Whether you're a small-business owner or not, mastering cash flow management is key to future financial success. If you'd like more personalized advice on how to optimize your cash flow, reach out to us today at clientservices@bowerspwm.com or call 984 – 308 – 1908 to schedule your free no-obligation introductory conversations.