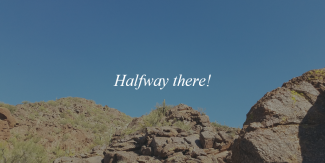 Here we are, halfway through yet another year.  How is everything looking for you?  Are you well on your way to accomplishing what you set out to do financially?  Did you have a plan in place to begin with? 
Much of the time in today's world, life moves along so rapidly that even when we have good intentions, our finances can get a bit out of control.  Rising expenses, taxes taking too much of a bite, the needs of our kids, and the list goes on… 
I know that life can pull you in many different directions.  In fact, I would venture to say that sometimes getting through life can feel how my wife and I felt last year when climbing Camelback Mountain in Arizona (pictured above).
The double black diamond rated trail to climb to the top of Camelback Mountain is 1.3 miles long, very rocky, and often narrow path with a very steep incline; In those 1.3 miles there is an approximate 1,300 foot gain in elevation.  It appeared we were finally nearing the end of our climb to the top when we came over a ridge in the trail to see the view in the picture above and suddenly we could see there was still quite a lot more really challenging hiking left to go.
I am a firm believer in working hard to control what can be controlled, and the use of basic systems to help ensure that this happens on a regular basis.  The goal is that this will allow for lower stress, peace of mind, and a greater presence in day to day life that makes time feel like its slowing down a bit. 
Though we had spent many hours researching our trip to Arizona and working hard to learn what we could to prepare for the hike up Camelback Mountain before we began our hike, we were still both surprised at the degree of difficulty.  Having planned ahead to know what to expect made it possible for my wife and I to be prepared to enjoy the experience of a tough hike up a desert mountain with temperatures in the 90's.   
The views from the top of Camelback and the sense of accomplishment for having made it to the top of such a challenging climb were well worth all the advance planning and strenuous work of the actual hike up the mountain.
At Bowers Private Wealth Management, your goals are our plan.  We love to help our clients put basic systems into place to help them proactively manage financial decisions along with the necessary accountability.  The goal of this is to give our clients the confidence that comes along with knowing that an important aspect of their lives is being handled with professional care.  
Our process for helping our clients is well thought out, and time efficient.  We are not interested in wasting your time or pulling you in the wrong direction. 
If you find yourself wondering how to tie everything together in your financial life so that you can have more balance in your overall life, or find yourself wondering if you may have overlooked anything regarding your planning, feel free to reach out. 
And….for those of you that are curious, here is part of the 360 degree view of Phoenix from the top of Camelback.  Amazing. 
The SFA does not give tax or legal advice.
We cannot guarantee future financial results.